The Program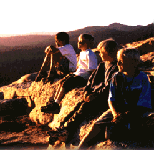 Led by mature and upbeat youth leaders, this close-to-nature program is fun while encouraging self-reliance. Emphasis is placed on the enjoyment of experiencing new things. We offer campers many outdoor activities.
Our enrollment is limited to 70 campers and 8 CITs. This number is big enough for fun and excitement, yet allows us to be very attentive and take very good care of the campers entrusted to us.
Location
Our camp is located in the majestic Sierra National Forest on the shore of Bass Lake. Approximately 48 miles north of Fresno, California, and near the southern entrance to Yosemite National Park, the 3 1/2-mile long lake is laden with beautiful coves, beaches and a waterfall inlet.
Climate
The 3,500-foot elevation of Bass Lake shares the beautiful Ponderosa Pines & Cedars of other High Sierra elevated lakes, yet has much warmer water (summer temperature may reach 80). This allows us great enjoyment of our many water sports. Daytime temperatures range from the mid-80s - 90's; nighttime temperatures may range from the mid-40s to low 60s.
Tent Living
Campers experience the great outdoors with true camp living. Groups of 10 campers reside in large group tents with their Senior Leader. Most campers sleep outside the tent under the stars with a sleeping pad and sleeping bag. Individual modern bathroom facilities (with flushing toilets and running water) are on site. The overall ratio of campers to leaders is 6 to 1.
Food Service
Campers eat in our "outdoor dining hall" with tables situated in wide, open-air space under the pine trees. Fresh food is bought daily and deliciously prepared by our chefs. Salad and fruit is served with lunch and dinner.
Health & Safety
The safety and well-being of our participants is our first priority. Although we live in an outdoor manner, specific attention is paid to diet, sanitation, and the health and safety of each camper. A detailed Health History Form (completed by a parent/guardian) along with a Medical Form (completed by licensed medical personnel) are required to attend. Campers with any specific medical need should discuss with a Director prior to enrolling.

We want to assure you that we take excellent care of the children in our program and that medical attention is rarely necessary. In the event of illness, medical emergency or a situation requiring additional assistance, we follow all appropriate EMS procedures. There is a pharmacy, and emergency clinic in the nearby town of Oakhurst. Small ailments such as headaches, sore throats, stomach aches, etc. are cared for and treated appropriately at camp along with lots of TLC!
Travel
WEST LA:
We depart from our West Los Angeles meeting point in the morning and travel by deluxe air-conditioned camp vans/charter bus to Bass Lake.
OUTSIDE OF SOUTHERN CALIFORNIA:
Campers who live outside of Southern California and wish to attend the Sleep-Away should contact our camp office as campers will need to make arrangements to fly into Los Angeles Int'l Airport (LAX) and have arrangements to reach our meet point either by a parent or friend. Due to our small size, we do not have a service to pick-up/drop-off campers at LAX.
For more information please call the camp office: 310.541.3664.

2023
Sierra Sleep-Away
12-Days:
August 7 – August 18
6-Days:
August 7 – August 12